Give your sweetheart a different kind of bouquet – heart sandwich cookies.
ingredients for cookies:
2 sticks of room temperature unsalted butter
3/4 cup Xylitol
1 large egg – room temperature
2 teaspoon vanilla extract
2 3/4 cups Pamela's Gluten Free Flour
1/4 teaspoon baking powder
1/4 teaspoon Kosher salt
1 teaspoon Xanthan Gum
1 vanilla bean – caviar only
2 to 3 tablespoons unsweetened cocoa powder
Preheat oven to 350.  Line baking sheets with parchment paper
In stand mixer beat the butter and Xylitol until fluffy, add egg and continue to mix until well combined.  Add vanilla bean and vanilla extract and mix well.
In a separate bowl combine the flour, salt, baking powder and Xanthan gum, whisk together. Add slowing to wet ingredients.  Take dough from mixing bowl and divide in half.
Shape 1/2 of the dough into a 1 inch flat disk, wrap in saran wrap and refrigerate for an hour. Take the other half of the dough return to mixer and add the unsweetened cocoa, remove & shape into 1 inch flat disk and refrigerate for an hour.
Roll out each disk of dough to about 1/4 inch, cut with heart shaped cookie cutter, place on lined baking sheet.
Bake for 10 to 12 minutes.  Cool completely before making the cookie sandwich.
ingredients for butter cream filling:
1 stick of very softened unsweetened butter
2 to 3 cups Health Garden Xyiltol Confection Sweetener
1 to 1 1/2 tablespoons Almond Milk creamer
1 tablespoon vanilla extract
Using a stand mixer with the whisk attachment whip butter on medium high until light, creamy and pale in color.  Add the Confection Sweeter 1/4 cup at a time.  My note to you is to taste after every cup or so to make sure the filling is not overly sweet. Add in vanilla extract and mix well.
Assembly: 1 vanilla cookie, 1 chocolate cookie – spread the filling and attach cookies together.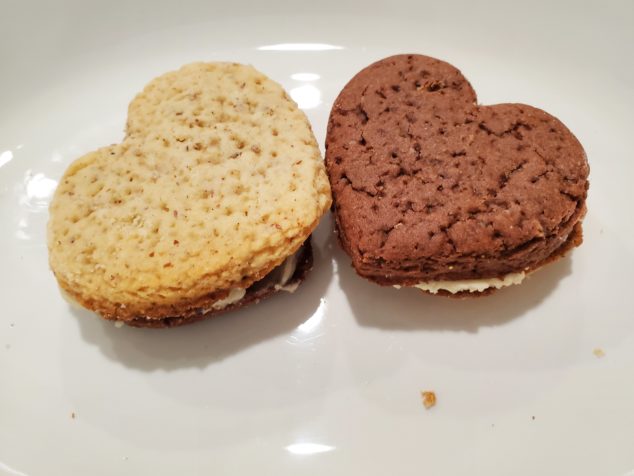 Note: to make the cookies in a vase I used bamboo skewers cut in half covered with green straws cut to size and lightly put in the cookie sandwich stuck into floral foam.