Was walking around Whole Foods in Honolulu and saw the Shabu Shabu Boneless Pork Belly. I had never seen pork belly thinly as thinly sliced as pancetta and just had to buy it. Had already put the heirloom tomatoes in my cart and decided to give them a try together. Let me tell you this was so delicious!
Shabu Shabu Boneless Pork Belly Heirloom Tomato Pasta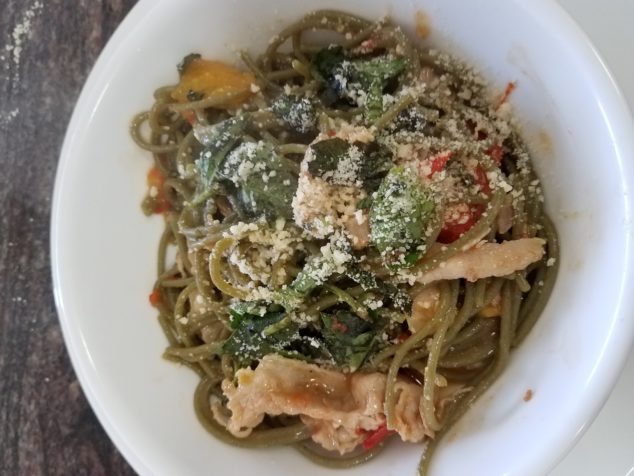 Ingredients:
3/4 lb Shabu Shabu Boneless Pork Pork Belly (this is pork belly that is slices very very thin)
3 to 4 medium to large Heirloom tomatoes – cut into 1/2 inch pieces
1 package Tinkyada gluten free brown rice pasta spinach spaghetti
Kosher Salt
Fresh Ground Pepper
3 large garlic cloves – grated
salt & pepper to season the chicken pieces
1 package of Thai Basil- chopped
Olive Oil
1/4 teaspoon crushed red pepper flakes (of course if you like food really spicy add more)
parmesan cheese – grated
To a bowl add the tomatoes, 1 teaspoon salt, 1/2 teaspoon of pepper, 1/4 teaspoon crushed red pepper flakes, 1/2 of the basil and grated garlic. Let sit in the bowl at room temperature for about an hour to marry the flavors.
Add about 1 tablespoon olive oil to a heated pan, add the pork belly and fry for about 5 minutes.
Heat large post of water and cook pasta according to package instructions. Hold 1 cup of pasta water aside when draining pasta.
Add the tomato mixture into the pork belly pan and simmer for about 15 minutes. Add cooked pasta to pan with the cup of pasta water and combine all together. Remove from heat, add remaining thai basil and parmesan cheese and you are ready to eat.