If one type of salad is good why not combine a couple different ones to make one fantastic salad.
It is not easy to find gluten free bread to make good croutons but I have now figured out how to do it….yeah me.  Everyone loves a good Caprese salad but it is more an appetizer than a meal. So I decided to combine the two and add chicken with a basil dressing and it was a "wow"  Don't freak out about baking your own bread, I have made this Focaccia Bread in several different flavors and it is always good and easy to do (and this olive focaccia makes a yummy sandwich bread).
This might seem like a lot of ingredients and process but it is really easy and totally worth it.
Kalamata Olive Focaccia Bread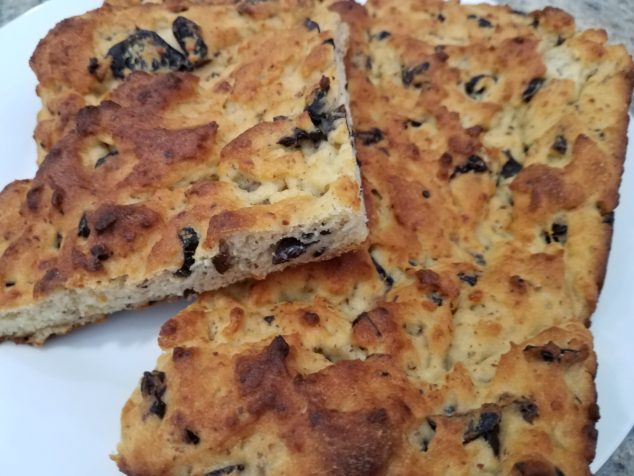 Ingredients:
1 cup warm water (around 105 degress)
1 tablespoon XYLA
1 tablespoon active dry yeast (it is more than one package)
1 1/2 cups Pamela's Gluten Free Flour
1 teaspoon xanthan gum
1 teaspoon Kosher salt
1/2 cup chopped Kalamata olives
1 egg
2 tablespoons olive oil
Preheat oven to 400 degrees.
Dissolve the sugar in the warm water, add the yeast, stir and let stand for about 5 minutes.
While the yeast is doing it's thing combine the flour, xanthan gum, salt and olives in a bowl.
After the yeast has bloomed add 2 tablespoons and egg to it and mix well. Add the wet ingredients to the dry and combine well.
Spray a 9 x 9 inch baking pan with non-stick spray, add the batter, cover with saran wrap and let sit for at least 20 minutes in a warm place to let batter rise.
Remove saran wrap, bake for 25 minutes, let cool in pan.
To make the croutons: slice the bread into croutons place on dry baking sheet in a 300 degree oven for 17 to 20 minutes.
Basil Dressing
1 cup fresh basil
1 cup olive oil
1 garlic clove
zest of 1 lemon
juice of 1/2 lemon
1/2 teaspoon pepper
1 teaspoon Kosher salt
1 teaspoon white balsamic vinager
2 teaspoon Mirin
Combine all the ingredients in a food processor or blender and you have a very tasty dressing,
The Salad
Combine the following on a platter (you can use as much or as little of each depending on how large you are making the salad).
Cooked Chicken: this can be leftover chicken you have, roasted chicken thighs or breast.
fresh mozzarella balls or a mozzarella log cut up into pieces
pitted Kalamata olives, sliced in half
baby Heirloom tomatoes – halved
the croutons
avocado – sliced up
Place all the ingredients on a platter and drizzle with the basil dressing.