I am not a huge lover of Thanksgiving day traditional food, and I am not having a large crowd, nor do I want to eat leftovers for a week so I decided to do untraditional holiday dinner. And just maybe start a new tradition. It is also a good use for your leftover turkey.
Thanksgiving Risotto: Mushroom Turkey Bacon Risotto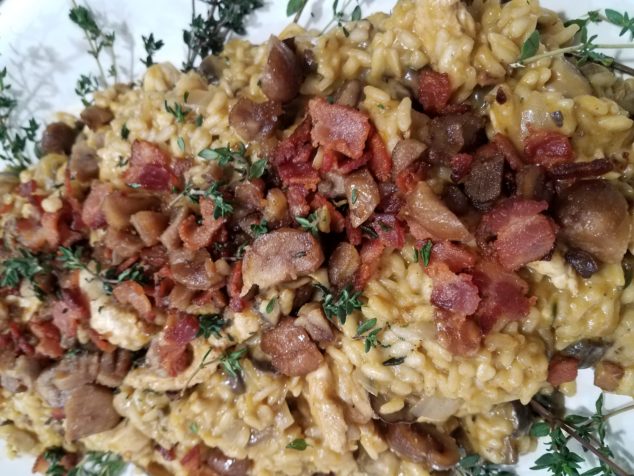 Ingredients:
1.25 lbs turkey cutlets (or you can use your left over turkey)
to season: the cutlets: pepper, applewood salt (or Kosher salt if that is what you have handy), garlic powder, sweet paprika
6 oz portabella mushrooms (2 large ones) – diced
10 oz crimini mushrooms – sliced
10 oz white mushrooms – sliced
1 yellow onion – finely diced
2 medium shallots – finely diced
4 garlic cloves – finely diced
6.5 oz fully cooked chestnuts – sliced
4 slices uncured apple smoked bacon – cut into lardons
2 cups Arborio rice
1 quart vegetable broth
1 cup white wine (I used Chardonnay)
1 bay leaf
fresh thyme
3 tablespoons olive oil + 2 tablespoons olive oil
2 tablespoons unsalted butter
1 cup grated pecorino romano and parm cheese
salt & pepper
Add the bacon lardons to a cold dutch oven, turn heat to med/high and render the bacon. When the bacon is crisp remove to paper towel to drain.
In a separate pot, heat the vegetable broth up.
Add the seasoned turkey cutlets to the bacon fat and cook for 5 to 7 minutes. Remove to paper towel to drain.
Add 3 tablespoons of olive oil to the bacon fat, add the onion, shallots and garlic, light salt and cook for about 3 minutes. Add the mushrooms and 1 tablespoon of the fresh thyme and sauté for about 10 minutes. When the mushrooms are cooked lightly salt and pepper.
Pour the cup of wine into the pot to deglaze (best spoon to use for deglazing is a large wooden one). Add large sprig of fresh thyme and bay leaf, cook for about 5 minutes. Add the rice and cook for 3 to 5 minutes until the liquid in the pot is absorbed. Spoon the heated vegetable broth 1 soup ladle at a time to the rice mixture until absorbed, continually stirring. When all the stock is absorbed test the rice to make sure it cooked completely, if not continue to stir and cook until done. Remove the thyme spring and bay leaf.
Add the two tablespoons of butter and combine. Add the pecorino/parm and combine. Add the cooked turkey back in. Salt and pepper to taste.
In a small saucepan heat the remaining two tablespoons of olive oil with 3 sprigs of thyme, remove thyme and sauté the chestnuts for 1 to 2 minutes. Top the risotto with the chestnuts, bacon and chopped fresh thyme and you are ready to serve.