Saw these beautiful red / yellow swirled peppers at the store and just had to find a way to use them so I thought I would stuff them. You can also just use red or orange or yellow peppers to make the recipe.
Stuffed Peppers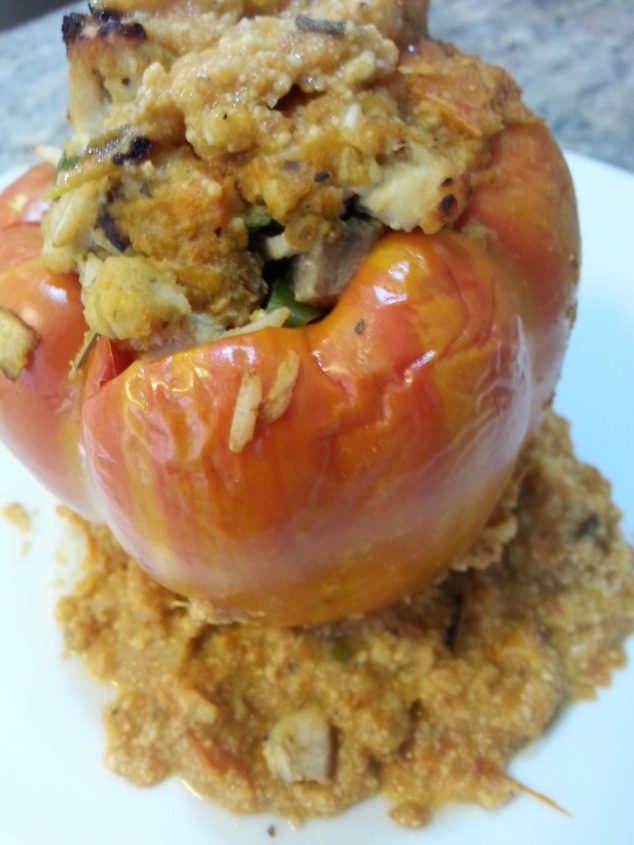 Ingredients
1/2 cup brown rice
2 cups vegetable broth
1 really huge tomato or 2 to 3 medium ones – quartered
4 large peppers – tops and seeds removed
2 to 3 tablespoons garlic thyme olive oil
1 lb ground turkey
1/2 half large white onion – grated
4 shishito peppers + 4 shito peppers
1 teaspoon granulated garlic
1 teaspoon dried basil
salt and pepper
Instructions
In a large skillet heat the brown rice and vegetable broth with 1/4 teaspoon salt…bring to a boil, then lower heat to medium and cook until the vegetable broth is absorbed by the rice – this takes about 25 minutes.
Preheat oven to 400 degrees:
On baking sheet place cut tomatoes and 4 shilot peppers, salt and pepper & coat with the olive oil. Bake for 25 to 30 minutes. Remove from oven to cool.
While the rice is cooking in a large bowl combine the ground turkey, grated onion, 4 shito peppers finely chopped, granulated garlic, dried basil and s&p.
When the rice has absorbed all the broth add the ground turkey mixture and cook for 25 to 30 minutes.
Fill the peppers with the turkey mixture. In a blender combine the roasted tomatoes and peppers (include the olive oil for the baking sheet and combine. Add a cup of the turkey mixture and combine – this will give you a nice thick sauce. Pour the sauce over and around the filled peppers in a roasting dish that allows them to stand up. Bake at 350 for 30 to 40 minutes.