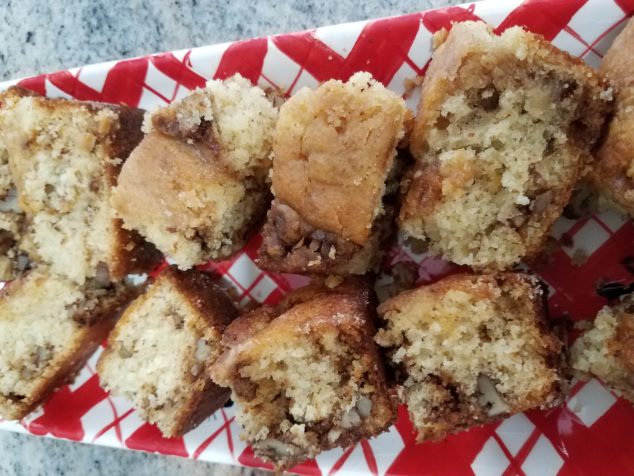 This coffee cake is so delicious that it should be called OMG Coffee Cake…it's moist, cinnamonny, and loaded with pecans. It is a must try.
INGREDIENTS:
filling:
1 cup chopped pecans
1/4 cup Palm Coconut Sugar
1 teaspoon cinnamon
2 tablespoon melted butter
cake batter:
2/3 cup butter – room temperature
1 cup Xyla
2 teaspoons vanilla extract
1 cup low fat sour cream – room temperature
2 cups Pamela's Gluten Free Flour
2 large eggs – room temperature
glaze:
1/2 cup Powder Xyla
2 teaspoons vanilla extract
1/4 teaspoon cinnamon
2 to 3 tablespoons water
Preheat oven to 350. Line a 7 x 11 baking dish with a piece of parchment paper (I spray the bottom of the pan with no stick spray which keeps the parchment in place while filling pan).
In a small bowl combine all the filling ingredients and set aside.
For the cake: mix the Xyla and butter until well combined. Add vanilla extract, eggs and sour cream and combine. Add flour and mix well.
Spoon 1/2 the batter into the parchment lined pan, sprinkle with 1/2 the pecan mixture and swirl them thru the batter, spoon the remaining batter on top then top with the remaining pecans.
Bake for 40 to 45 minutes. Let cool in pan. Lift parchment paper to remove cake from pan.
While cake is cooling, combine the glaze ingredients then drizzle on the cooled cake.