Not sure what kind of cookie you want, oatmeal? peanut butter? chocolate chip? peanut butter and chocolate? well with this cookie you don't have to decide as you get three great flavors in one.
Oatmeal with Peanut Butter & Chocolate Chip Cookies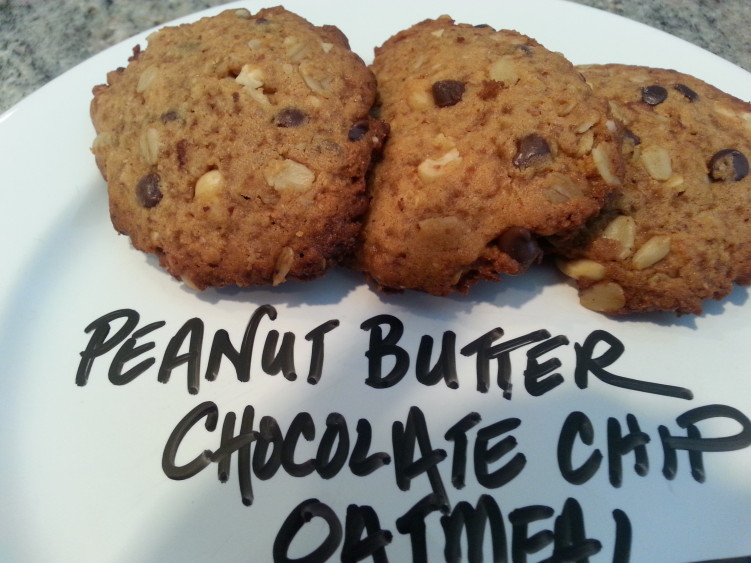 Ingredients
1 cup gluten free oats (I use Bob's Red Mill)
1/1/4 cup gluten free flour (I use Pamela's brand)
1/2 teaspoon baking soda
1/2 teaspoon salt
1/4 teaspoon Xanthan
1 stick room temperature unsalted butter
1/2 cup Organic Coconut Palm Sugar
1/2 cup XYLA
1 cup crunchy peanut butter (I use Trader Joe's brand of natural peanut butter)
2 large eggs – room temperature
1 teaspoon vanilla extract
1 cup chocolate chips (I use Enjoy Life brand)
1/2 cup chopped peanuts (I use the Trader Joe's 50% less salt kind)
Takes
Instructions
Preheat oven to 350 degrees
In a standing mixer combine the butter with the Palm Sugar and XYLA.
While butter mixture is combining whisk flour, baking soda,xanthan and salt in a small bowl.
With the mixer still running add in the peanut butter, eggs and vanilla. Mix till combined.
With the mixer on low add the flour mixture. Add in the oats, chopped peanuts and chocolate chips.
Using the small scoop place the dough on the parchment lined cookie sheet about 2 inches apart and bake for approx. 15 minutes.
Let cool on cookie sheet for about 5 minutes than move to a cooling rack to continue the cooling.