Retro spring dinner updated…this is easy, made in one pan and oh so good.
Lamb Leg Steak with Peas and Onions & Rosemary Parsley Sauce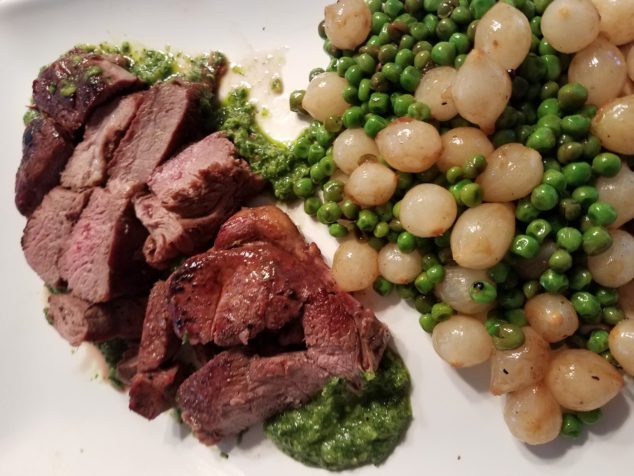 Rosemary Parsley Sauce:
1 large garlic clove – cut in half
1/2 cup fresh rosemary (.75oz package) – stems removed
1 cup fresh parsley
1 teaspoon Kosher salt
1/2 teaspoon fresh black pepper
1 small lemon – zest and juice
1/2 cup olive oil (or more if you want the sauce thinner)
Place all the ingredients in a food processor and combine until ingredients are a thick sauce consistency. Place in small bowl, cover in plastic and let ingredients get to know each other while cooking the lamb.
note: if you don't use all the sauce you can freeze the remaining in Ziploc bags for a later use.
Lamb Leg Steak:
1 lb lamb leg steak
Kosher salt and pepper
2 tablespoons olive oil
1 whole garlic clove
Preheat oven to 350 degrees.
Heat the olive oil in an iron skillet with the whole garlic. Salt and pepper both sides of the lamb steak. Remove cooking garlic before it burns! Place steak in the heated pan and cook on high for 6 to 8 minutes on each side, remember brown means tasty food. Move pan with the steaks to the oven to complete the cooking. About 10 minutes to medium rare, and if you like your meat more done, just leave it in a few minutes longer.
When lamb steak is done, remove to platter to rest.
Green Peas and Pearl Onions:
1 cup frozen petite peas – defrosted
1 cup frozen pearl onions – defrosted
1 tablespoon unsalted butter
In the iron skillet that the lamb steak cooked in melt the one tablespoon of butter on a medium heat, add the peas and onions and sauté for 2 to 3 minutes (if peas and onions are still slightly frozen cook a bit longer).
Plating:
Spread the sauce on the serving platter, place rested and sliced lamb steak on top and add the peas and onions on the side of the platter and bon appetite.