It's cold, it's rainy and you want something comforting; yet it is the beginning of the year and you said you would eat healthy – well here is a soup that that is warming, healthy and yummy.
Chicken Sausage Soup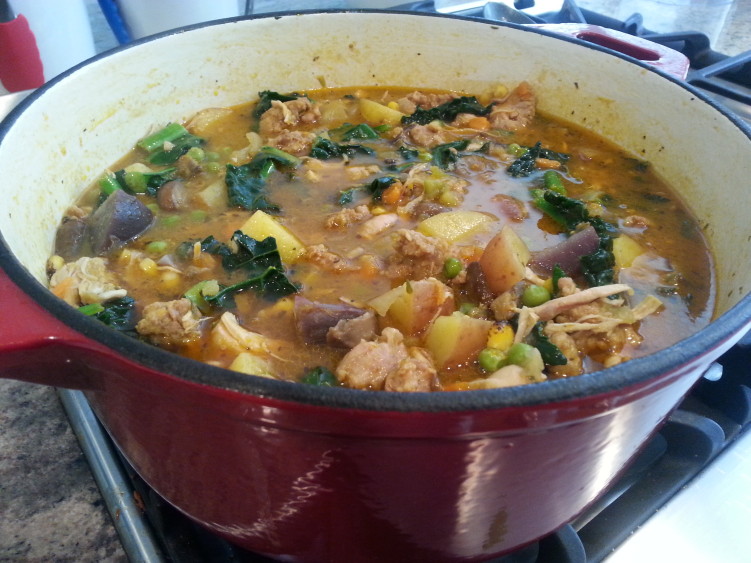 Ingredients
1 1/2 cups chopped yellow onion
1 1/2 cups chopped carrots
1 1/2 cups chopped celery
salt & pepper
2 tablespoon olive oil
2 1/2 sweet sausages (pork or chicken) – removed from casing
2 1/2 hot/spicy sausages (pork or chicken – removed from casing
4 cloves finely chopped garlic
1/2 teaspoon dried coriander
2 dried bay leaves
1/2 teaspoon paprika
1/2 teaspoon dried basil
8 piece cut up chicken (skin on and bone in)
1 quart of vegetable broth + additional 1/2 quart of veggie broth
1 piece of Parmesan rind
5 to 6 springs fresh thyme
1 bag (1 lb 12oz) small potato melody (cut potatoes into quarters)
1 cup frozen roasted corn
1 cup fresh (or frozen) peas
1/2 bag (3 oz) baby spinach
1/2 bag (5 oz) Tuscan kale
In a large dutch oven heat the olive oil, add the chopped onion, carrot & celery, sprinkle with salt & pepper and saute for 3 to 5 minutes
Add sausage meat to pan, break into little pieces and continue to cook.
Add coriander, bay leafs, paprika, basil and chopped garlic. Stir all ingredients together and cook until sausages are browned.
Salt and pepper the chicken pieces and add to pot skin side down to brown. Cook for about 5 minutes…remember color means flavor.
Now add the chunked pieces of onion, 1 quart of vegetable broth, parm rind, 7 thyme sprigs and simmer covered for about 40 minutes.
Remove chicken pieces from pot, along with thyme stems. Skin the chicken, remove from bones, shred or cut up the chicken meat and put back in soup pot. Add corn, peas and 1/2 quart of vegetable broth and continue to simmer covered for 35 minutes.
Add the spinach and kale to pot and continue to simmer until wilted (about 10 minutes).
Now you have a very tasty nutritious soup. Enjoy!